Curriculum
The Primary Department
The primary grades at The Presentation School are child centered and developmentally designed. The focus is on the individual child and what learning style and process works for that individual. The teachers carefully guide the young learners, instilling in them a love of learning, confidence in their own voice and respect for others. Our faith based community incorporates a sense of stewardship both towards our school community and to the larger world.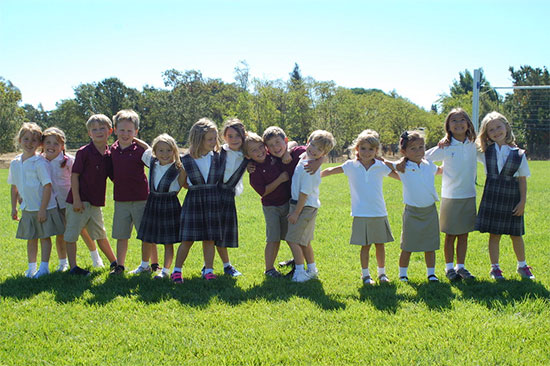 The Primary level creates the foundation for the students school life. Our Language Arts and Math curriculum is built on a solid knowledge of the basic skills that the young learner needs to flourish in their school life. These basic skills are taught in a dynamic and imaginative way using a variety of methods to open up the world of reading and writing to the young child. Math is similarly taken beyond the basics to open the world of numbers, math logic and number sense to the young mind. A "hands on" approach is emphasized , as are mental math activities and conceptual projects. In every core subject the curriculum seeks to make connections for the student. These subjects are interwoven throughout the child's day be they in art, science or music.
The children are in a Literacy rich environment. The children are involved in problem solving, observations, discovery and creative self expression. We include in our curriculum art, music and technology, to name a few disciplines, not as just enrichment but as a vital part of a truly educated person.
The Primary department at The Presentation School does teach a child that 3+3 =6 but we also ask, " How many ways can we make the number 6?"
Intermediate Years
The intermediate years (grades 3-5) at The Presentation School, are years of incredible growth. Using the foundational primary years as a springboard, our students blossom under the tutelage of their dedicated teachers. Their skills in writing, note taking, research, and report writing are introduced and refined. Students are encouraged to express themselves through creative writing, oral reports, class plays, group presentations, and projects.
The students' young minds are challenged through a comprehensive, vertically-aligned, spiraling curriculum of mathematics. New concepts are introduced, hands-on activities increase learning through multiple pathways, and the same concepts appear later, but at more sophisticated conceptual levels. In this manner students are continually building their knowledge/skill base, making connections with prior learning as they are introduced to higher levels of math and see math at work in their everyday lives.
The focus of the intermediate grade curriculum is to build a strong foundation for the middle school program. English Language Arts instruction at this level supports the students as they begin transitioning from phonics and blending to literary analysis. Critical literary skills, such as: formulating predictions, drawing conclusions, making inferences, analyzing character development, and determining an author's purpose, are supported through hands-on activities. Higher-level academic vocabulary, essential for learning in all the disciplines, is introduced and encouraged in everyday communication. Fostering a life-long love of reading is a key goal for all the grades at The Presentation School. In the intermediate grades teachers continue to read-aloud to their students, students read more and read from a greater variety of texts than in the primary years, and students share the joys of reading through book talks, readers' workshops, literature circles, and book reports. In addition to their anthology reading and outside reading, students read thematic novels that integrate learning from other subject areas.
Middle School Curriculum
The middle school years at The Presentation School offer the best of both worlds, an exciting, dynamic curriculum, and the smaller class sizes so critical to individual learning.
We offer an integrated core curriculum, centered on the needs of individual students. Students are engaged in their own learning; they determine (with teacher guidance) their learning styles, reflect on their progress via journaling, and develop a keen sense of their unique learning strategies that will serve them well in their high school years. Their teachers are dedicated to providing engaging learning experiences for their adolescent learners. Beyond the core curriculum, Spanish, Art, Physical Education, and Electives are offered. Our Elective program is developed through the needs of our student population, and the greater community. In the past, classes such as: Sustainable Agriculture, Cooking, Marine Biology, Art, Newspaper, Speech and Drama, Needle Arts, Choir and Dance, Guitar, and Book Club, have been offered.
Our active Student Council provides opportunities for students to take on a leadership role in their Middle School years. Students may choose to run for class representative or an officer role in the council.
Language Arts skills are honed in these upper grades. Students read and write in a variety of genres and their critical analysis skills are developed. An interdisciplinary approach is evident throughout the humanities and allows the students to make key connections, an essential component of advanced learning.
Learning outside the classroom, such as: trips to the Oregon Shakespeare Festival, Williamsburg, Virginia, Washington D.C., Marin Headlands, Wells Fargo Center, nearby Ropes Courses, museum and architectural excursions, and even our on site garden, are some of the enrichment experiences we provide our young adults.
Our Faith classes meet the real world, faith becomes not only words, but deeds, when our students go outside the classroom to provide community service.
Math, Science, and Technology are also at the fore at The Presentation School. Each child's individual Math needs are taken into consideration when designing the class offerings and placing the students. Our classes range from basics skills, grade-level classes, through Algebra and high school-credited Geometry. Our Science classes prepare our students for the rigors of high school science. Technology is not relegated to a computer lab (though we do possess one), but rather is integrated throughout the curriculum. Students use laptops, design power point presentations, and video, while LCD projectors facilitate instruction.
Our strong Athletic Program competes in the Sonoma County Middle School League in volleyball, basketball, golf and track. We have also have a new tennis team!